Open the Teacher Dashboard and go to the Assessments tab.
Next, select My Assessments. Here you will see a list of any assessment ready to be marked.
These are split into 3 tabs:
To be marked: Assessments that have been completed fully and are ready to be marked.
Pending: Assessments that have been set but are incomplete.
Marked: Previously completed and marked assessments.
In the Pending tab, once a pupil has begun working through each skill area, the grey skill icons in the will turn green. Once all are green, the assessment will move to To be marked.
To begin marking an assessment, select Mark next to the one you wish to choose.
Tip: The tabs display results for the last 60 days by default. If you're looking for an older assessment, switch this filter.
This will take you to the Listening section first, which will have been auto-marked for you.
If you are happy with the predicted grade, select Confirm. If you wish to give the student a different grade, you can manually overwrite the predicted grade. To do this, change the grade and select Confirm.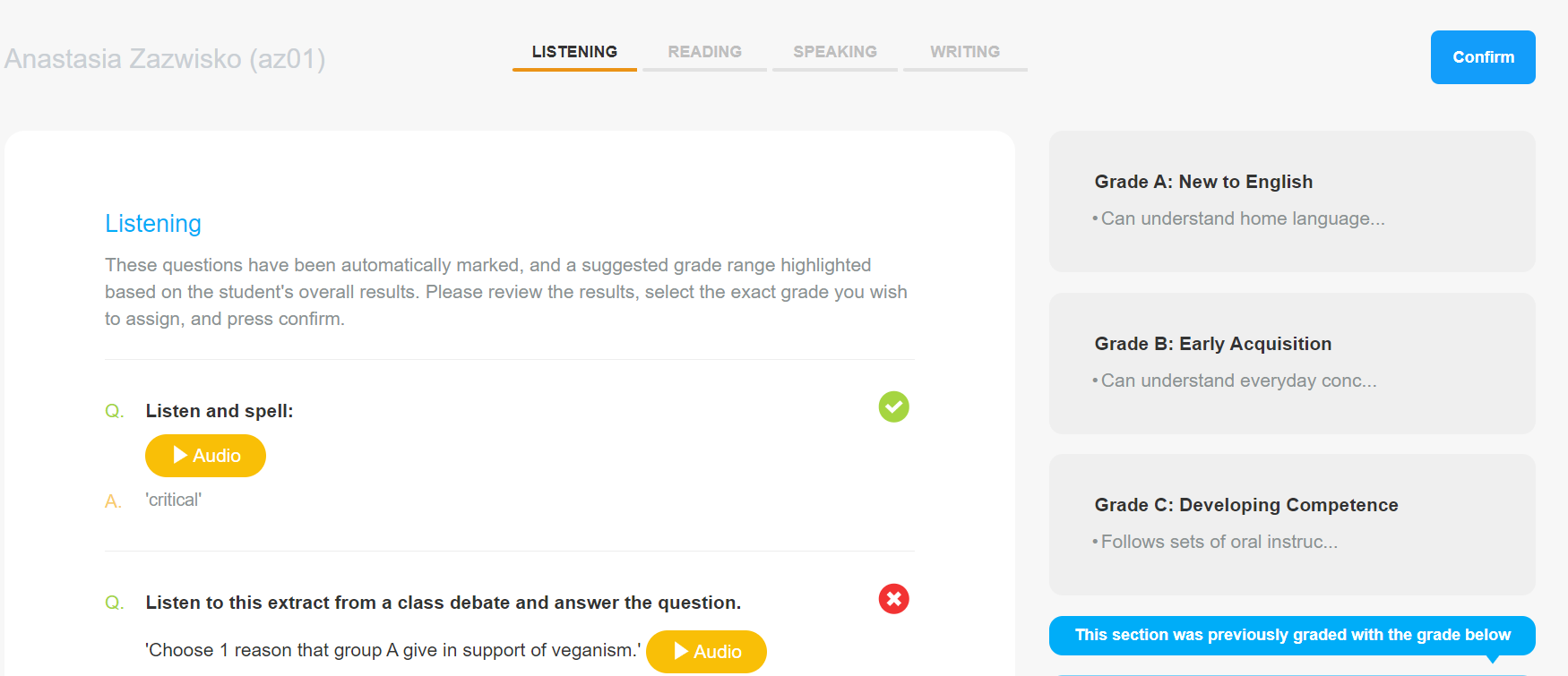 Repeat the above process for the Reading section.
For the Speaking section, you can review student answers by selecting the play button under each question. Once you have reviewed all the answers, manually select the grade you wish to give your student and select Confirm.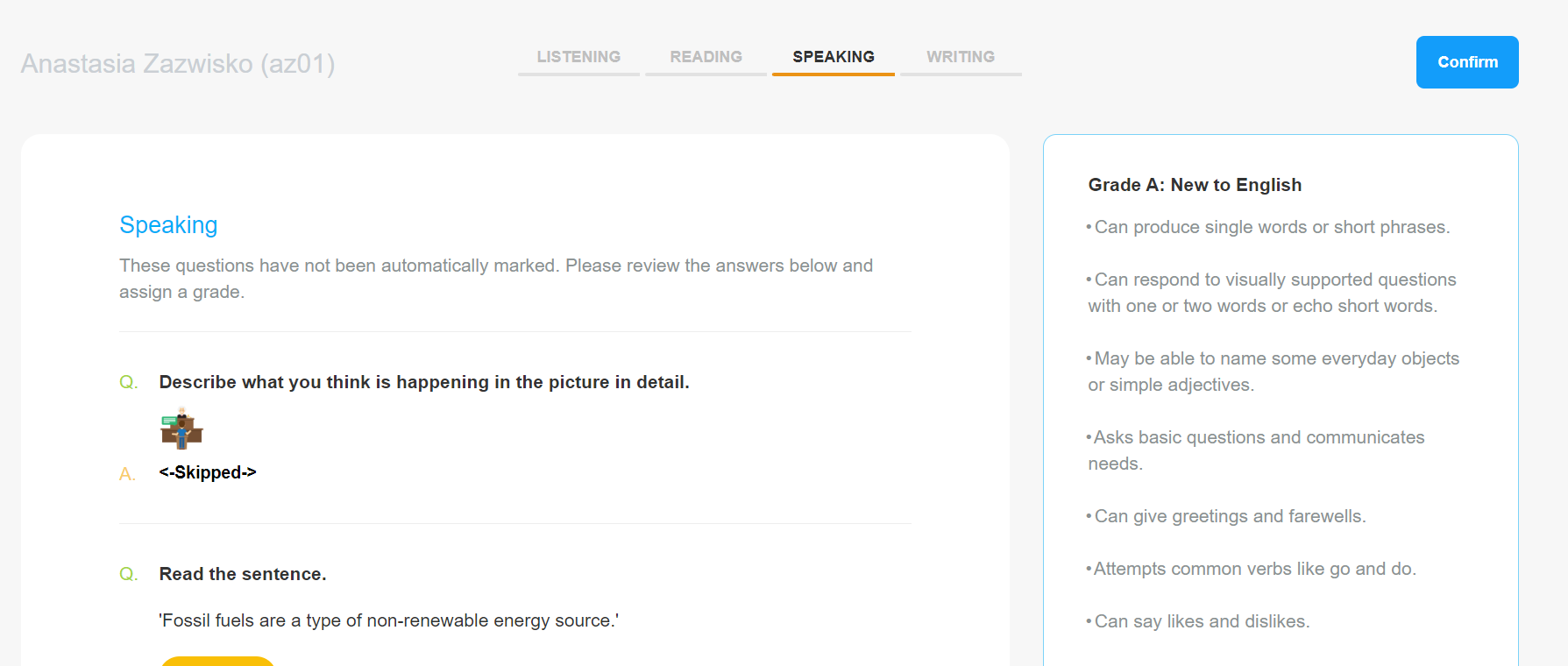 Repeat this above process for the Writing section.
Once you are happy to progress and finalise the assessment, select Confirm.
You will be taken to a summary report, with the grade from each section as well as some teaching strategies and recommendations. You can manually overwrite any grade by clicking the Edit button next to the section. You can also add Additional Comments at the bottom of the summary if you would like to make any notes in relation to the results or the student.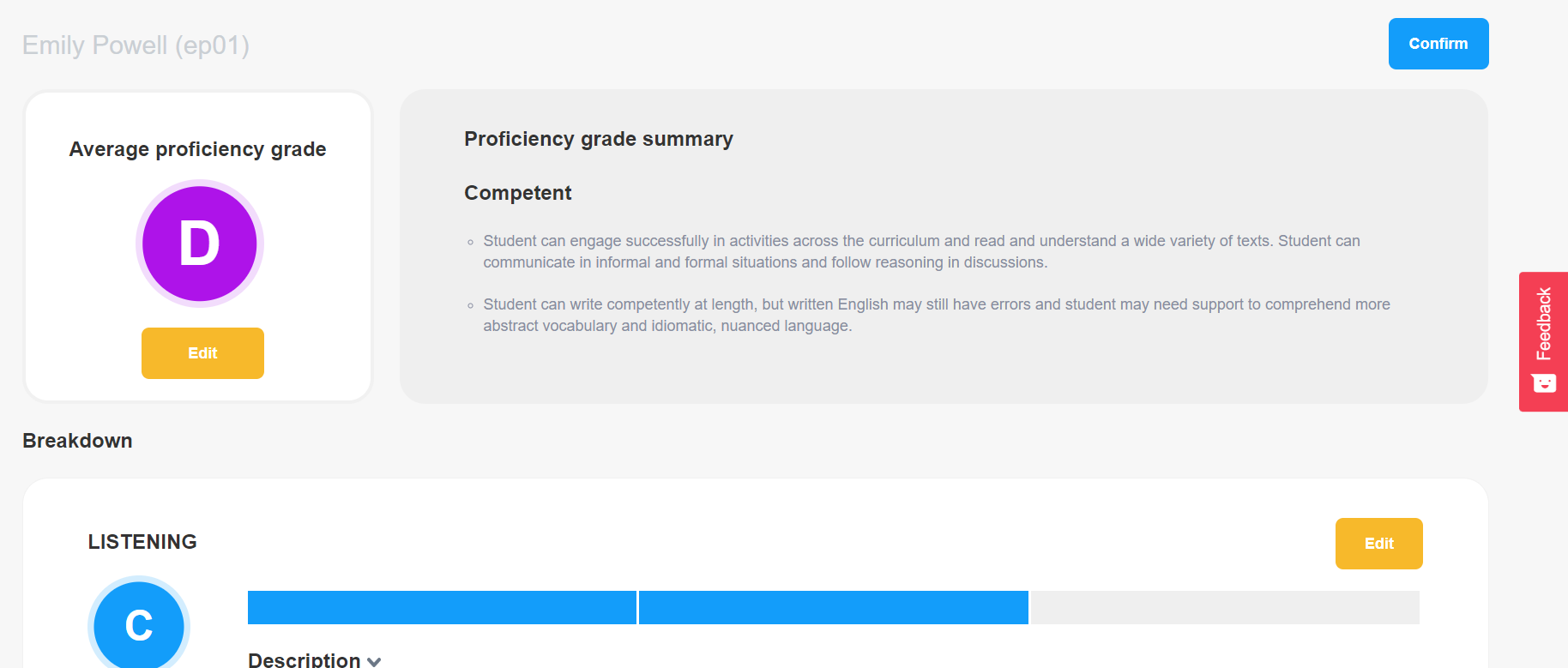 This report will then move to the Past Assessments section of the main Assessments tab, where you can review it at any time.
Important to note:
To mark an assessment, all key skill sections must be complete. Keep an eye out for future releases, which will allow you to preview grades for the receptive skills before completion.